As we promised through our twitter account, here is the summary of the inaugural meeting held last Friday 15th.
The first thing to remark was the good response of the people to the call that during all last week the two organizers (@jomafer86 and @xeleh) were doing mainly via twitter.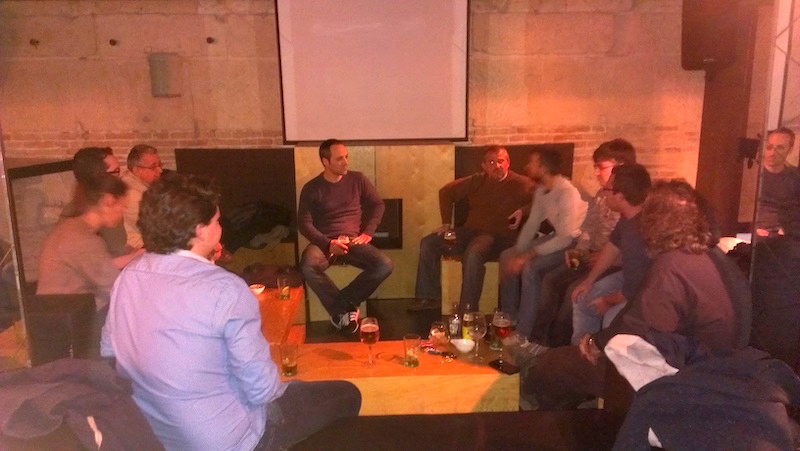 Due to this interest and the fact that we didn't require confirmation of attendance, there was a moment shortly before the meeting when we really didn't know exactly how many people would be attending although we suspected that we wouldn't be only a few, so one of the organizers took the initiative to contact the chosen establishment to try and make a last minute reservation for a few more people, which wasn't a big deal. This foresight was a success not only because we were up to 12 people at the time of maximum attendance, but also because it allowed us to hold the meeting in a much quieter place.
The next (very) remarkable fact was to have the participation of Diego Freniche (@dfreniche on twitter) organizer of the NSCoder Night Sevilla, whom we want to thank from the bottom of our hearts that a lot of kilometers were made from Seville just to attend the event. And that is not the only thing we want to thank him for. Diego was, without any doubt, the person who gave more play in the meeting with his anecdotes full of humor and wisdom in equal parts. Of course it would not have been the same without his presence, so from here thank you very much for everything, Maestro!
The meeting began as these things usually do, with a presentation in turns by each of the people who met there. It is true that in this presentation perhaps we should have gone a little faster because at the end, among the amount of people we were, the extensive curriculum of some of the attendees and that the presentations also served to give rise to some anecdotes and of course to ask each other things, you can practically say that this was the "activity" that took us most of the total time, about three hours minimum. It seems like a long time, but as Einstein said: "The perception of time is not the same when you are talking about topics that you like between laughs and beers" (okay, okay, maybe he didn't say it with those exact words…). However, we were forced to have dinner right there, a few "montaditos", which truth to be said were yummy.
After all this talk, you are probably still asking yourself the same question: But what the </fuck> was discussed there? Well, things like that:
Brief history of NSCoder Nights and typical operation of this type of meeting.
Possibility of setting up from here purely programming sessions (coding dojos) taking advantage of the fact that the two coworking companies in Córdoba (@CoSfera and @CoRab21) are interested in giving us their spaces for this purpose.
Projects and Apps under development or developed by the attendees.
Interesting books to start developing iOS (mentioned, among others, The iPhone Developer's Cookbook by Erica Sadun).
Experiences using Parse.
Differences between MRC and ARC (Automatic Reference Counting) and a bit about their insides.
"Ideists", what they are and how to deal with them.
Interest in starting a Unity 3D workshop next year.
Slave labor practices of a certain company in Cordoba told first hand by a person who had had the misfortune to work there.
Why isn't there an affordable Access app on a Mac? What happened to Bento?
The "beauty" of the Android SDK (note the irony)
What are iBeacons?
How the company was created Iternox and its impressive track record in its short life.
And many more things we should have written down so we could write a proper summary…
Note: To the topic of projects and apps developed by the people who attended we will dedicate as soon as possible a special section in this blog. Perhaps it would be interesting to raise it at the next meeting so that together we can design a format that is easy to manage and that can help give visibility to your projects.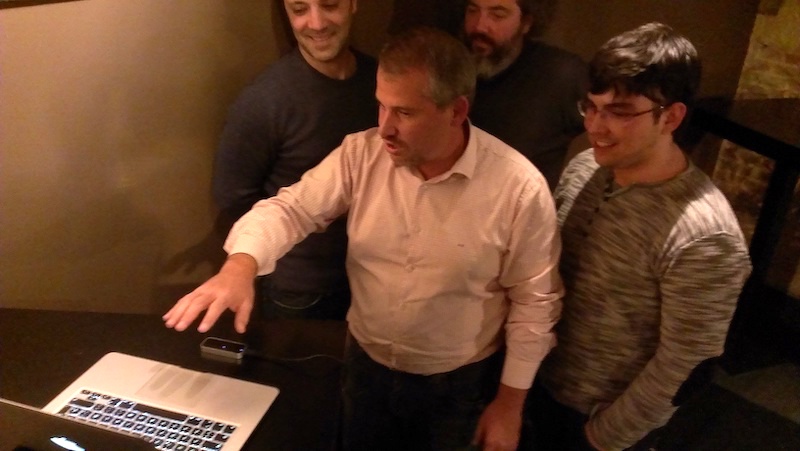 The last part of the meeting, the one after the presentations, did not really reach all the initial attendees because, as we explained on twitter, the meeting did not have a pre-set duration nor did anyone have to stay longer than they considered appropriate, so go also the summary for them (and for her, Maribel, the only woman who approached the event).
What happened in this last section was basically that people got loose after dinner and as a consequence we all changed places to start several conversations in smaller groups, where we continued to touch on very interesting topics and even the possibility of joint work was raised. As a final conclusion, some attendees -who couldn't contain themselves anymore- decided to take out their MacBooks to show the rest some things like, for example, the game Vitrun Air programmed for Evasion Games by @xeleh, which the attendees could try out using a LeapMotion 3D controller, a device that really surprised us.
In conclusion, although there was not much time for in-depth technical discussions, our assessment is that this was a very good first meeting because the two fundamental objectives that we would sign up for any future meeting were achieved: the first, that people with similar interests and concerns had the opportunity to meet each other, and the second and equally important, that at all times there was a pleasant and relaxed atmosphere.
From here we want to thank all the people who attended this first meeting and ask them to please keep in touch with us so that we can inform them of upcoming meetings. See you at the next one!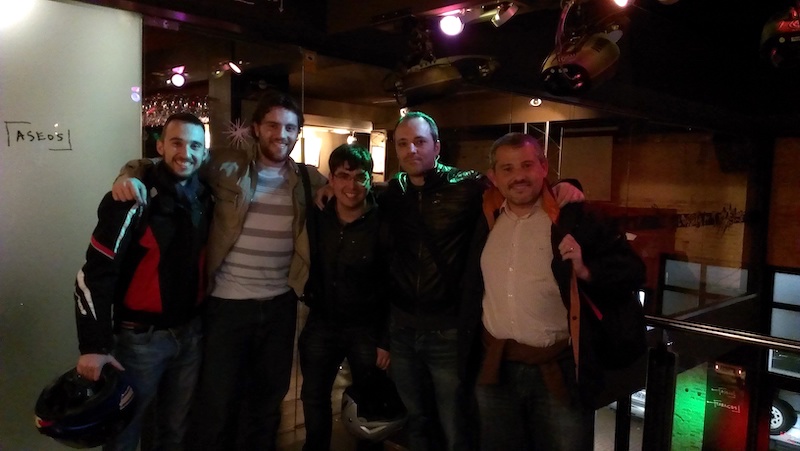 ---